Zentroid - What is Coming
Zentroid will aim to be the best value center point data converter available on the market. Zentroid will import, edit and format center point in a user friendly graphical user interface.
Zentroids Prototype has been used for many years challenging the ease of use of several finished commercial products. The Prototype is not a finished product but can be purchased at a bargain price.
Zentroids Prototype Pick and Place Converter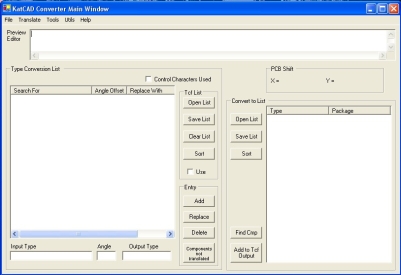 Significant Features of KatCAD Data Converter
Lookup File for Type Conversions by "Mask" or "Exact Match"
Simplified Lookup List Creation
Easy to create unique component types from separated package and value input data
Skewed fixed data easily corrected
Easy to see/change printed circuit board orientation